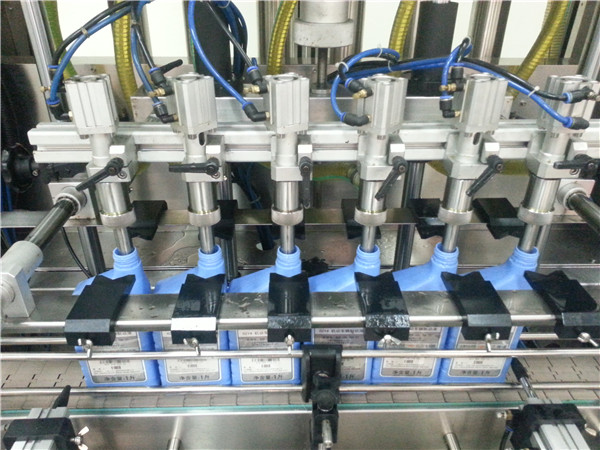 NPACK engine oil filling machine, engine oil filler is design and manufacturing specially for filling engine oil, lube oil, gear oil and any other types of car oil, the oil filler is an extremely flexible filler , it is capable of filling any other liquids without corrosive.
The NPACK automatic engine oil filling machine is manufactured with a 304 stainless steel frame and is capable of supporting 2 to 20 fill nozzles to meet customer needs, max speed can reach 5,000bottles per hour for 5 liters bottle, it is PLC Controls, touch screen operation, 304SS or 316SS contact parts, stainless steel and anodized aluminum construction, plus many more features come standard.
Features
---
304 Stainless steel construction , and the liquid contact parts are 316L stainless steel
Schneider PLC and touch screen control
The engine oil filling machine is Servo motor Driven, one servo motor drive one piston or one servo motor driven more nozzles, high speed and high accuracy.
Accurate filling volume, within ±0.5-1%
No bottle,no fill, automatic warning on errors
The filling blocked nozzles are anti drops, silk, and auto cut viscous liquid
Easy to maintain, no special tools are required.
Diving nozzles for bottom up filling of foaming products if need
Bottle mouth can be located if need
The oil filling machine adapt level control system on top liquid tank.
Applications
---
It is not only use in filing engine lube oil, car oil, it is also can fill liquid From thin liquid to viscosity
Technical parameters
---
| | | |
| --- | --- | --- |
| 1 | Speed | 18-40bottles/min |
| 2 | No. of filling nozzles | 6filling nozzles |
| 3 | Filling range | 500-5000ml |
| 4 | Measurement precision | ±0.5-1% |
| 5 | Working power | 220VAC 50/60hz |
| 6 | Air pressure | 4~6㎏/㎝² |
| 7 | Air consumption | 1m³/min |
| 8 | Power rate | 0.8kw |
| 9 | Servo motor | 2KW |
| 10 | Net weight | 450KG |
The Difference between pneumatic drive engine oil filling mahine and servo motor driven engine oil filling machine
| | | |
| --- | --- | --- |
| No. | pneumatic drive | servo motor driven |
| 1 | Use pneumatic air cylinder to drive the piston | Use the servo motor to drive the piston |
| 2 | Adjust the filling volume by hand rotary a general screw | Adjust the filling volume automatically, only need to put the filling volume into the touch   screen |
| 3 | Accuracy +1% for 100g | Accuracy+0.5% for 100g |
---