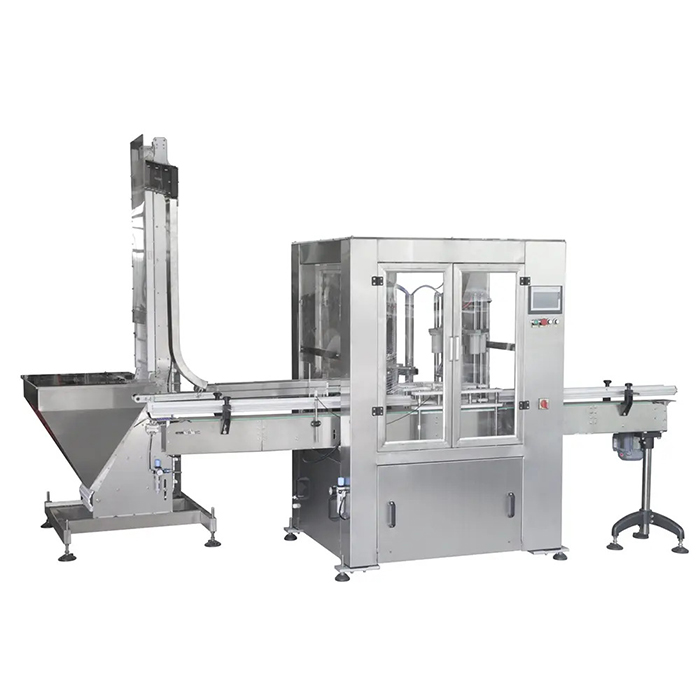 An automatic rotary capping machine is a type of automated equipment used for applying caps to bottles, jars, or other containers in high-speed production lines. The machine works by using a rotating turret or carousel that moves the containers through different stages of the capping process.
At the capping station, the machine uses a variety of capping mechanisms, such as torque control, snap-on, or screw-on, to apply the cap to the container. The machine can be programmed to handle different types and sizes of caps and containers, and it can be adjusted to accommodate different production rates and cap tightness specifications.
One of the advantages of an automatic rotary capping machine is its high level of efficiency and accuracy. The machine can cap hundreds or even thousands of containers per hour, reducing the need for manual labor and minimizing the risk of human error. Additionally, the machine's precision torque control can ensure consistent and secure cap application, which is critical for maintaining product integrity and preventing leaks or contamination.
The automatic rotary capping machine can also be integrated with other packaging equipment, such as fillers, labelers, and conveyors, to create a complete packaging system that can handle all aspects of the packaging process. This integration can further enhance the machine's efficiency and streamline the production process.
Overall, the automatic rotary capping machine is a reliable and cost-effective solution for manufacturers looking to increase their production rates, improve product quality, and reduce labor costs in their capping process.
Product Description
---
Automatic Rotary Capping Machine
Product Character
The Automatic Rotary Capping Machine is exclusively designed by Neostarpack team and adopts single phase brushless motor which is concise and has great horsepower.
Automatic Rotary Capping Machine
Features
---
1. Sealing pressure can be adjusted by torques to suits for various caps.
2. Controlled by PLC system with touch screen, easy to read and operate.
3. No bottle, no capping.
4. Intermittent rotate wheel to ensure precise bottle position.
5. Memory parameters for fast changeover.
6. Heavy duty top-chain conveyor is stable and durable.
7. Subtle sealing heads make capping precisely.
8. Cap hopper makes caps dropping down and aligning automatically.
9. Rotate wheel and sealing head are changeable.
10. Equipped with rubber on the bottom to diminish cap breakage.
Specifications
---
| | |
| --- | --- |
| Cap type: | all kinds of caps |
| Cap diameter: | 22~120 mm |
| Capping speed: | 30~40 bottles/ min |
| Air pressure requirement: | 6kg |
| Power supply: | 110V or 220VAC, 50/60Hz |
Automatic Rotary Capping Machine
Option accessories
---
1. Feeding tray
2. Low storage and missing caps detective system
3. Customized rotate wheel
Quick Details
---
Type: Capping Machine
Condition: New
Application: Food, Beverage, Commodity, Medical, Chemical, Machinery & Hardware
Driven Type: Electric
Automatic Grade: Automatic
Power: 110v or 220vac
Packaging Type: Crate
Packaging Material: Wood
Place of Origin: Shanghai China
Brand Name: NPACK
---