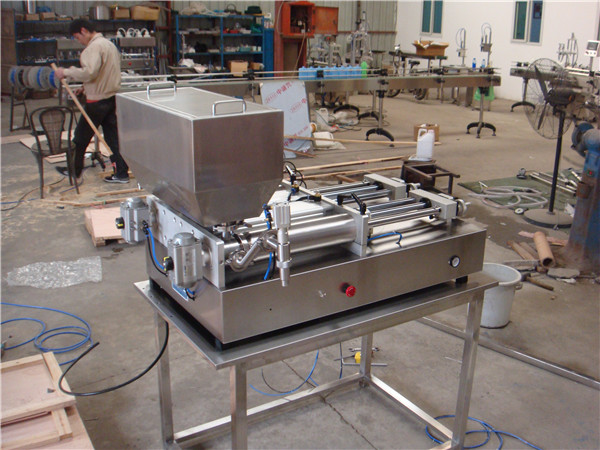 NP-S semi automatic sauce filling machine is made by 304SS, pneumatic driven, we adapt the airtac or festo air cylinder per customer requirements.
It is application for filling thin liquid to viscosity sauce , such as tomato sauce, sala jam,shampoo, oil, cream, lotion and so on.
The filling nozzles is shut off nozzles which have function of anti drops, automatic shut off after filling.
The filling size is control by piston stroke, filling speed can reach 40bottles/min per 100ml.
Specifications
---
1.30L Top Hopper and Liquid Transfer Valve for option
2.for filling viscosity paste such as toothpaste, sauce and also thin liquid such as water
3.Filling range from 100 ml to1000ml,10-50ml, 50ml-200ml, 1000ml to 5000ml
4.Capacity 15bottles/m
5. One filling nozzle
6.Leaking-Proof, Silk Nuzzling-Proof, Leakage recovery system
7.Machine construction material are mainly 304SS, the hopper and liquid contact parts are 316L stainless steel
Technical Parameters
---
Items
NP-S-06
NP-S-12
NP-S-25
NP-S-50
NP-S-100
Filling Range
5-60ml
10-125ml
25-250ml
50-500ml
100-1000ml
Air
4-6kg/cm2
4-6kg/cm2
5-8kg/cm2
5-8kg/cm2
5-8kg/cm2
Capacity
0-30bottles/min
Accuracy
0.5-1%
Voltage
AC220V 50/60Hz
Power
10W
Net weight
18.2kg
20.1kg
25.8kg
30.5kg
37kg
Gross weight
35kg
40kg
42kg
45kg
50kg
Size
844*290*731MM
911*290*731MM
1089*340*811MM
1180*340*828MM
1180*340*828MM
---