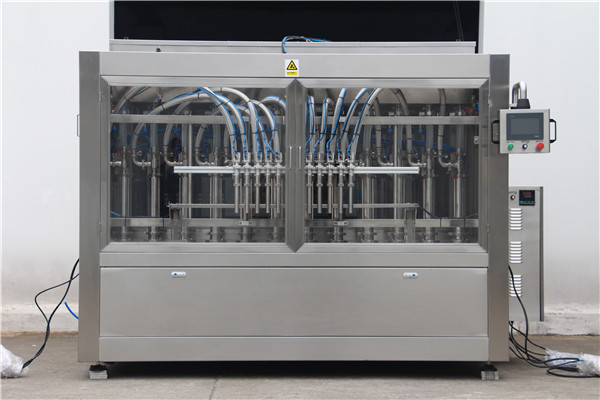 The NP-VF automatic shampoo filling machine is an ideal and flexible shampoo filler capable of filling accurately and rapidly thin and viscosity shampoo liquids, such as shampoo, lotion, body lotion,face cream and so on..
The automatic shampoo filler is constructed with a 304 stainless steel frame ,and 316SS contact parts and is capable of supporting from 2 to 16 fill heads to meet users capacity. it adapts with Schneider PLC Controls and touch screen, Danfoss frequency conventer,316SS contact parts, stainless steel and anodized aluminum construction, plus many more features come standard.
IT adds efficiency to any production line used in the cosmetic, food industry, specialty chemical, pharmaceutical, and personal care products.
Features of automatic shampoo filling machine
---
304 Stainless steel construction and the liquid contact parts are 316L stainless steel
Schneider PLC and touch screen control
Adapt Servo motor Driven, one servo motor drive one piston for option, high speed and high accuracy.
Accurate filling volume, within ±0.5-0.8%
No bottle, no filling, automatic warning on errors
The filling blocked nozzles are anti drops, silk, and auto cut viscous liquid
Easy to maintaining, it no need special tools and skills.
Diving nozzles for bottom up filling of foaming products.
Bottle mouth can be located if need
Applications
---
From thin liquid to viscosity liquid
Technical parameters
---
| | | |
| --- | --- | --- |
| 1 | Speed | 20-100bottles/min |
| 2 | No. of filling nozzles | 2-16filling nozzles |
| 3 | Filling range | 100-1000ml,1000-5000ml |
| 4 | Measurement precision | ±1% |
| 5 | Working power | 220VAC 50/60hz |
| 6 | Air pressure | 4~6㎏/㎝² |
| 7 | Air consumption | 1m³/min |
| 8 | Power rate | 0.8kw |
| 9 | Servo motor | 2KW |
| 10 | Net weight | 450KG |
The Difference between pneumatic drive and servo motor driven
---
No.
pneumatic drive
servo motor driven
1
Use pneumatic air cylinder to drive the piston
Use the servo motor to drive the piston
2
Adjust the filling volume by hand rotary a general screw
Adjust the filling volume automatically, only need to put the filling volume into the touch

screen

3
Accuracy +1% for 100g
Accuracy+0.8% for 100g
Component List
---
Component List
PLC
Schneider
Touch screen
Schneider
Frequency converter
danfoss
Servo motor
Schneider
Speed reducer
GOLDGUN, shanghai
Air switch
Schneider
Nozzles air cylinder
airtac
Free Spare parts list for one year
Seals 10pcs 5USD/pcs
O Ring 10 pcs 8USD/pcs
Motor belt 1 pcs 20USD/pcs
---