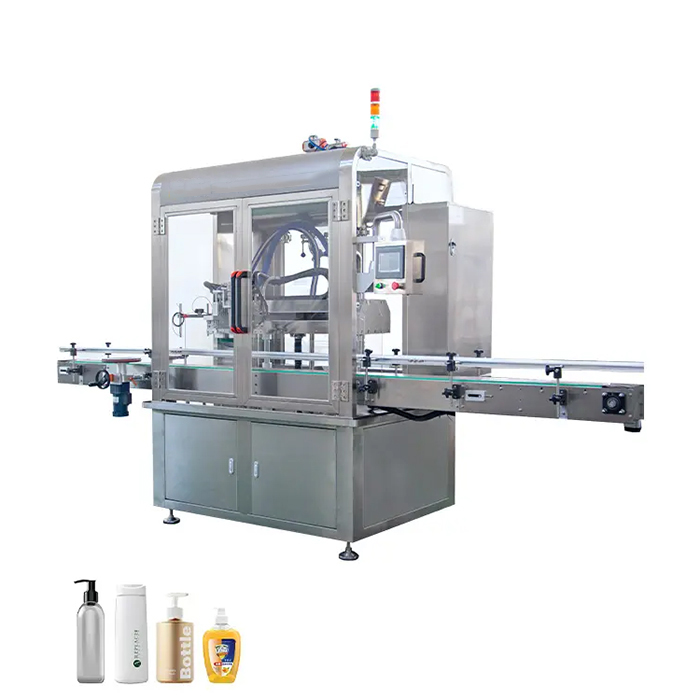 Overview:
---
The machine is suitable for round bottle and flat bottle. Can fill syrup, lipometric etc. SUS304 stainless steel peristaltic pump volumetric filling, with high filling precision, stable working and easy operation etc; meet GMP requirement.
The machine take bottles to the turn table by conveyor, the board on the table take bottles into each station, then fill, insert valve, screw cap and there is approaching switch in each station, checking position signal and carry on different operation. The line through electricity, pneumatic and mechanism to realize the above work.
Filling process:
---
1st step: the bottle feeding machine will deliver the bottle to the parts offer ,the bottle will enter to the station of the parts offer and devising by the slicer, when the slicer turned to one station ,the photocell head stretch into the bottle ,the filling head fall ,the filling will begin. when the cylinder rise to the station ,the magnetic will give an signal ,the filling will be end.
2nd step: after filling when the station turned to the lower valve, the photo electricity explored the bottle ,the photoelectric will send signal to the electromagnetic valve ,the electromagnetic will change its direction. the washing and charging facility will rush the cap to the bottle of the station. when the cylinder rush to the station the magnetic switch will send information to the magnetic valve. the magnetic valve will change its direction ,the step is finish.
3rdstep : when the station turned to the capping facility, the photoelectric explored the bottle ,it will send information to the magnetic valve, the magnetic valve turned direction ,the capping facility start to work, after that it will send signal to the magnetic valve ,the capping is end. the part offer turned to the next station. the bottle will be deliver by the conveyor, the whole process is end and just need to repeat this process.
Feature
---
1, Bottle conveying, filling, valve inserting, capping and bottle charging are monobloc, stable function, and meet GMP requirement
2, 2 nozzle filling with high speed;
3. Adopts peristaltic pump fill, stable filling with high precision
4. Adopts special holder system in the valve falling, to sure stable inserting valve
5, Pneumatic putting valve, protecting bush position, no bottle, no putting valve, correct.
6, adopt magnetic moment to screw caps, adjust tight or loose, do no harm to bottle and cap
7, High generality, suitable bottles in different shape and size, easy to change parts
8, SUS304 stainless steel measuring pump, convenient to dismantle to wash,sterilize.
9, Tee joint structure, high measuring precision, anti-perfumeping
10, Low-voltage apparatus electronic parts are from famous brand, with high stability
11, Photocell detecting system, less or more bottle and other breakup, it will stop automatically
12, There is cover in the machine so as to remove air directly
13, Stepless adjusting speed, computer-human interface control, easy to operate
Main technical parameter:
---
Capacity: 25-50 b/min
Filling way: peristaltic pump dosing filling
Nozzle: 1/2/4
Filling precision: ±0.5%
Way to put valve: automatic
Cap percent of pass: ≥99%
Stand-lone noise: ≤50dB
Power: 1.7kw
Weight: 650kg
---