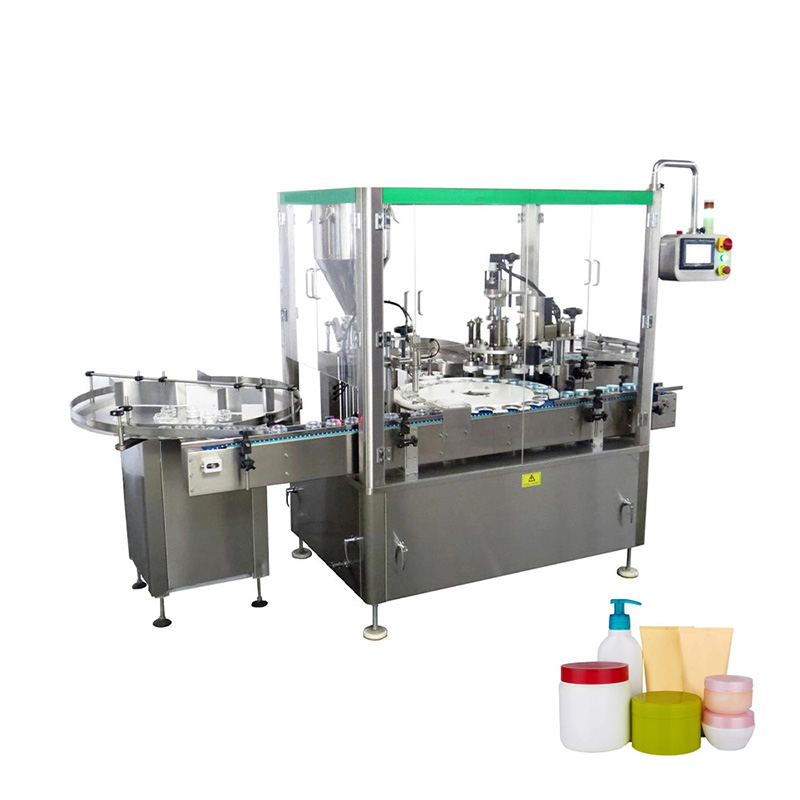 Our automatic rotary star wheel filling & capping machines are suitable for filling water-thin to medium thick products, such as liquid medicine, toner, perm lotion, air freshener, skin care, etc. They are featured with compact configuration, small area occupied, nice appearance, easy adjustment and wide applicability, which make them can be widely used in the pharmaceutical, pesticide, daily chemical, food or other industries.
In these series, the filling and capping actions are driven by accurate mechanical transmission, which can guarantee the quality of the products effectively. All the work stations, including filling, cap feeding, capping are equipped around one star wheel, thus both the working space and the operators needed can be greatly reduced. The automatic and uninterrupted producing mode can help to guarantee the production volume you need. We choose good material and parts to assemble our machines. All the parts come in touch with the products are made of food grade stainless steel imported, and all the pneumatic and electrical parts are known brand products from Germany, Japan or Taiwan. It is the innovation design and the good quality parts that ensure these series of machines occupy the leading position absolutely in the domestic market of liquid packaging.
Our Rotary Star Wheel Filling and Capping Machine especially suits for producing a single kind of products in big batches of production.
Production Flow:
Filling---Feeding Inserts---Pressing Inserts---Feeding Caps---Capping
Design according to your needs.
Main Technical Specifications
---

Quick Details
---
Type: Capping Machine, Filling and capping machine
Condition: New
Application: Beverage, Chemical, Food, Machinery & Hardware, Medical, Cosmetic, Medicine, Chemical, etc.
Driven Type: Electric and Pneumatic
Automatic Grade: Automatic
Voltage:380V
Power: 4kw
Packaging Type: Bottles
Packaging Material: Glass, Metal, Plastic
Place of Origin: Shanghai, China (Mainland)
Brand Name: VKPAK
Dimension(L*W*H): 1670*1350*1675
Weight:600kg
Certification: ISO9001
After-sales Service Provided: Engineers available to service machinery overseas
Quality Control System:ISO9001:2008
On-site Management System: 5S
---
An automatic cream filling and capping machine is a highly advanced packaging machine that is specifically designed to package creams and lotions into various types of containers such as jars, bottles. This machine is essential for businesses in the cosmetics industry who want to streamline their packaging process and increase their productivity.
One of the key benefits of an automatic cream filling and capping machine is its ability to fill and cap containers at a high speed. This is achieved through the use of advanced automation technology that allows for fast and accurate filling and capping. In addition, the machine is highly versatile and can handle a wide range of container sizes and shapes, making it ideal for businesses with diverse product lines.
The machine works by first filling the containers with the cream or lotion using a dosing pump that accurately dispenses the required amount of product. The containers are then capped using a capping head that tightly seals the product to ensure freshness and prevent spillage. The capping head can be customized to accommodate different types of caps such as screw caps, flip-top caps, and snap-on caps.
One of the key features of an automatic cream filling and capping machine is its ease of use. The machine is equipped with a user-friendly control panel that allows for easy adjustment of settings such as filling volume, capping torque, and speed. This makes it easy for operators to set up and operate the machine, reducing the risk of errors and improving overall efficiency.
Another important feature of an automatic cream filling and capping machine is its high level of hygiene. The machine is designed to be easy to clean and sanitize, with smooth surfaces and minimal crevices that can trap dirt and bacteria. This is particularly important in the cosmetics industry, where hygiene is essential for ensuring product quality and safety.
In conclusion, an automatic cream filling and capping machine is a valuable investment for businesses in the cosmetics industry. With its advanced automation technology, versatility, ease of use, and high level of hygiene, this machine can help businesses increase their productivity, improve their packaging quality, and stay ahead of the competition. When choosing a cream filling and capping machine, it is important to consider factors such as production capacity, container size and shape, and the type of cream or lotion being packaged.